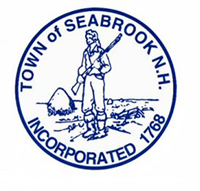 Town of Seabrook
PO Box 476
Seabrook, NH 03874
603-474-3152
Monday November 29, 2021 02:53 AM

Customer Services
Dog Licensing



Enter one dog tag and all your dogs will come up for your review, renewal and payment. Outdated rabies certificates are identified and options to update documents from your Veterinarian. You can remove a dog if you no longer have him/her.

E-Reg - Motor Vehicle Registration

E-Reg allows you to request any vehicle renewal online! You will receive your registration(s) in the US mail. Please keep in mind postage delivery times tend to vary, and you may not receive your registration in a timely manner.
Vital Record Request



Certified certificates for birth, death, divorce and marriage licenses can be requested online. Performed by your town office and sent to you with a variety of shipping options.