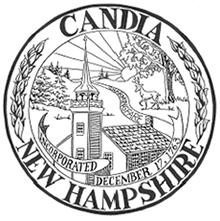 Town of Candia
74 HIGH STREET
CANDIA, NH 03034
603-483-5573
Tuesday February 07, 2023 06:24 AM
License Renewals



Renew an existing dog license in this town or complete a license you received a notification for. Only current year licenses can be renewed online. The year rollsover on January 1st.

Dog Licensing



Request a license for your new dog or renew your existing license. A valid rabies certificate is required to license your dog in the State of New Hampshire.

Registration Renewals



Requests are for registration renewals only. If this is the first time registering a vehicle in Candia, you must do so in the Clerk's office. New vehicle registrations cannot be completed online at this time. Your registrations and stickers will be issued by your Municipal agent and sent to you in the US Mail.

E-Reg - Motor Vehicles



Request your registration renewal, replacement decals, duplicate registration or obtain a registration estimate. Allow up to 10 business days processing time

Vital Record Request

Vital Records and Certificates If you have a Granite State Credit Union bank account, please call 603-668-2221 before you enter your banking information so that the bank can assist you with entering the correct data. This will alleviate checks being returned for unable to locate account.