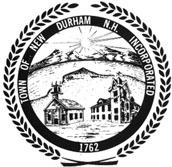 TOWN OF NEW DURHAM
PO BOX 207 - 4 MAIN ST
NEW DURHAM, NH 03855
603-859-2091
Friday July 21, 2017 08:37 PM

Customer Services
Dog Licensing



Dog Licensing - Multiple dogs display by entering one license number. Check your rabies information.

Auto Renewal Request



You can request your vehicle Renewal via E-Reg up to 20 days early and 9 months late. Payment by Credit Card or from your Checking Account is accepted. This service is low cost to your municipality and pay as you go for citizens who choose to use it.

Transfer Station



You can now pay for your Transfer Station disposal fees online.

Property Taxes



Credit Cards (MasterCard, VISA, Discover, AMEX, JBC and Diner's Club) and ACH (direct draft from your Checking account) are accepted via this internet service. Services to look up your property and project costs are provided as a free service to our citizens by EB2Gov.

Vital Record Requests



Certified Vital Records- the state-wide database is limited to the following years. Birth 1984 - Present, Death 1990 - Present, Marriage 1989 - Present, Divorce/Dissolutions1990 - to within 6 months from the search date. Prior to the above dates the birth or death had to have occurred in New Durham or the marriage license had to have been originally applied for in New Durham.